R/V Daring Game
100% American made workboat
Available for Daily and Weekly Charters
Research - Dive/Salvage - Support
History: Daring Game is a true American workboat and a piece of maritime history. The 42-foot Bruno and Stillman is a classic and timeless Downeast hull design from which many others were derived. She was designed by Royal Lowell of Maine in the mid-1970s and built by Bruno and Stillman of New Hampshire. The Bruno 42' hull design was later built as the Nauset 42, and the Cape Dory 42.
Prior to our purchase of her, she was employed towing barges up rivers in the Northeast, and later put to daily work in several types of offshore commercial fisheries under various names before making her way to South Florida, where she is still actively employed as a workboat.
We acquired the vessel in February 2011, and undertook a total refit and slight design reconfiguration shortly thereafter. Christened as Daring Game, the end result was a purpose-built vessel designed to perform a variety of specialized missions such as waterside film production support, diving and salvage support, submersible vehicle deployment, marine research, and other operations. During her initial shakedown cruise through The Bahamas in August 2011, Daring Game passed the ultimate sea trial as she easily weathered a direct hit by the 140 mph winds from both eye-walls of Hurricane Irene while anchored in the Sea of Abaco just south of Marsh Harbor.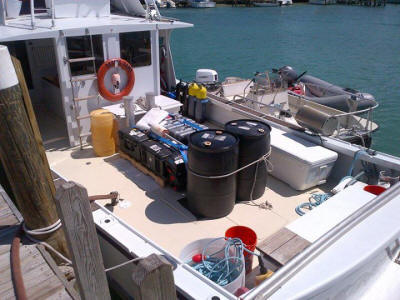 Mobile Production Studio: Rigged to support cameras and production crew, Daring Game can serve as a mini production studio with room for computers and facilities for battery charging, etc. She has camera jib boom mounting areas on bow, aft deck, and tower, along with a 360° clear view camera platform 16-feet above the water. We also have a two-man mini-sub that can serve as a camera platform or scene prop.
Her large 11-foot x 15-foot aft deck has a load capacity in excess of 5000lbs, enabling her to transport a variety of crew, gear, and cargo. The photo at right depicts a partial load of film production equipment transported from Fort Lauderdale to Abaco while supporting the marine coordination of a television series.
Special Equipment: Daring Game carries a full complement of specialized gear onboard, to include, surface supplied and SCUBA gear, salvage lift bags, dewatering pumps, compressors, ground tackle, rigging equipment, and underwater cutting torch.
Medical Equipment: A full inventory of life-saving, rescue, and emergency medical equipment is carried onboard. Basic first-aid, trauma management, oxygen therapy, and c-spine immobilization are included. Multiple victims can be supported until evacuation or transport.
Description
Specifications
Daring Game is a purpose built workboat specifically constructed to support a variety of maritime missions.
Since our acquistion and refit of her, she has exceeded our performance expectations by sucessfully executing high-seas rescue and salvage missions, maritime training support, dive operation support, and the support of marine related film productions.
Builder: Bruno and Stillman/Favor Bold AeroMarine
Original build date: 1979
Full Refit date: 2011
Length: 42'
Beam: 15'6"
Draft: 4'
Power: Detroit Diesel 8v71
Cruise speed: 15 knots
Range: 700 nautical miles (100 miles with auxillary fuel)
Deck Capacity: 5000 lbs (11' x 15')